Advocates push for more Black grad coaches at Simcoe schools
'We would like it noted that a lack of action is upholding systematic racism,' says Parents Against Racism – Simcoe County representative during delegation to board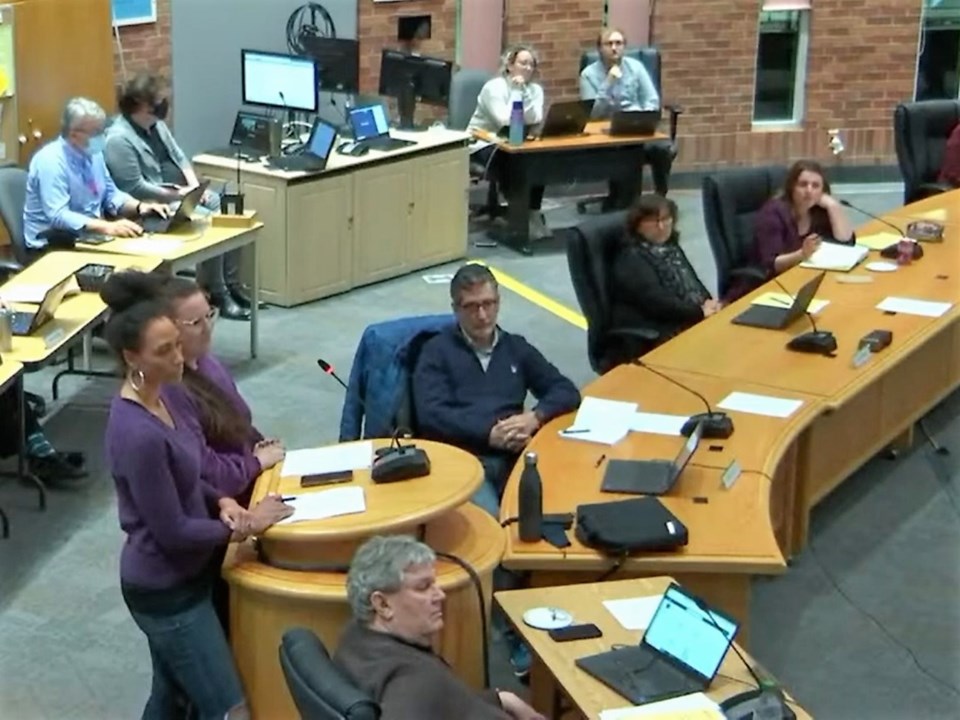 Parents Against Racism – Simcoe County (PARSC) would like to see the Simcoe County District School Board hire more Black graduation coaches – 14 to be exact – roughly one for every high school within the board.
As part of a delegation during a Nov. 30 meeting of Simcoe County District School Board trustees, representatives from the non-profit group Natasha Shakespeare and Sarah Peart spoke to trustees about the need they see through their work for more support locally for Black and racialized students.
"We have unique issues (in Simcoe County) as our Black and racialized (students) are not concentrated in one area, but are spread throughout a large area, further isolating us from each other," said Peart. "We lack representation at all levels in the school system."
The board currently employs three Black graduation coaches through a pilot program, with only one and a half coach positions funded through the Ministry of Education. The program was originally launched in February 2021 through the SCDSB and started with two coaches: one posted at Nantry Shores Secondary School in Innisfil, and the other at Bradford District High School. Each coach interacts with more than 70 students at each site with referrals and requests coming from other secondary schools.
As part of their release of 2021 student census data in January, the SCDSB included feedback from 50 of the estimated 100 students who had used the coaches. According to that feedback, 92 per cent of students reported that their graduation coach made them feel like they belong, 92 per cent of students reported that their coach is an important person in their life and 94 per cent reported that their coach provided them with support they needed to be successful in school.
At that time, Superintendent of Education Dean Maltby said the coaches were hired specifically for Black students because that group is most typically marginalized within education.
"Three and four is not enough to meet the needs of the Black students within this community," said Peart during Wednesday's meeting. She said there are five families known by PARSC with students who have stopped attending school "due to experiences of racism, discrimination and hate."
PARSC is a parent-led group intended to support parents of Black or biracial children to share their experiences and come together to work toward grassroots change in schools.
Peart said that in the 2021/22 school year, PARSC supported more than 30 families across Simcoe County, and so far in the 2022/23 school year, they have supported 11 families.
When discussing possible changes to the program that would improve the experience for students, Shakespeare asked if the process to connect students with the coaches could be more transparent, noting that some of the students and families being supported by PARSC say they weren't aware that the Black graduation coach program was one that was even available to them. She also noted the importance of intersectionality.
"Support of Black graduation coaches really needs to start in Grade 6. By the time students are in Grade 9, it is too late," said Shakespeare. "That's nine years of being called the n-word. That's nine years of their experiences being dismissed. That's nine years of being streamed out of opportunities."
"We would like it noted that a lack of action is upholding systematic racism," said Peart.
Midland/Penetanguishene/Tay/Tiny trustee Robin Talbot shot back at the suggestion.
"That's quite an accusation," said Talbot, before being cut off by Orillia/Ramara/Severn trustee and chair Jodi Lloyd.


"This is not a debate back and forth. This is questions of clarifications only," said Lloyd.
Barrie trustee Lisa-Marie Wilson asked about the program being run out of the Toronto District School Board and how many Black graduation coaches they employ. The TDSB employs five coaches, however also has a department specifically to support Black students.
Peart noted that through a study commissioned by PARSC, instances of racism per capita was found to be much higher in Simcoe County.
"We need to take a much more active and progressive approach in how we support our children," she said. "In Simcoe (County), they're going through a lot more isolation, discrimination and prejudice
Wilson noted that hiring more coaches would come with a price tag.
"If other areas do have more, I'm wondering where those funds are coming from," she said.
During questions from trustees, Peart noted that she hoped the program would evolve over time to add more resources.
"As there are more children that are positively impacted by more coaches, you'll get to see how the success rates of those students is elevated and there will be further justification for funding," said Peart. "We're not saying that everything needs to happen now…but the safety of our Black students needs to be elevated to the top of the priority list."
The deputation was received by trustees for information.
Visit the original article at…
https://www.orilliamatters.com/local-news/advocates-push-for-more-black-grad-coaches-at-simcoe-schools-6190988